Searching for Expression
This past weekend I finished the above sculpture, entitled Gentle Angles of Grief. This is my third portrait sculpture outside of class and the first to meet my goal of expressing emotion. Inspired by the image of a man in the first throes of grief as he was told his father had died, I wanted to capture at least some of what I felt when looking at this man's reaction. Sadness, longing and a kind of letting go of the heart.
The technique I used in this sculpture was different from the rest. Yes, the basic forms and measurements were done but when it came to building up the shape of this particular person, I did something different. I went fast. And I mean, feeling like I'd had too much coffee, fast. I worried less about the finer details of shape and nothing about the smoothness of the texture. Rough and ready – the clay was just going on! (Hopefully there won't be an air bubble!)
In 4 or 5, two hour sessions I went from the basic bones to the finished piece. Working in short bursts allowed me to progress and contemplate, progress and contemplate. The texture I achieved at the end wasn't quite what I had hoped. It was in between the entirely smooth feel I've done so far and the very rough feel I wanted. So I am happy with it. Perhaps a subsequent sculpture will go there but this one just wanted to be what it is.
This piece now has to dry a bit before hollowing. I pick up Little Walter Tell from being fired later this week so I'll set about painting and finishing him. And think about what's next to come.
I love sculpting. Love it. Love.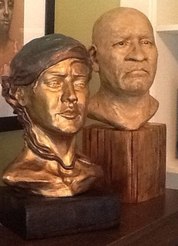 This past month has been a flurry of sculpting activity. I finished both my first sculpture entitled Old Growth, which was created in Melanie Furtado's Portrait Sculpting class and my second sculpture entitled The Reluctant Medusa, created on my own in my home studio.It seems my biggest struggle in these early days of sculpting is envisioning how to put a finish on the fired sculpture. My husband, Andrew Bartley is a very strong influence on my decisions. I think about what I want to do and tell Andrew about it and his feedback more often than not has me taking another look at my original idea.
---
This learning path includes finding my own style and confidence while still listening to Andrew's wise and intuitive input. I'm not a push-over, by any means. I also have my doubtful moments. I have an internal vision of the elegance I want in a piece but not enough experience to quite pull it off.
So while I like the gold, bronze and patina finish of The Reluctant Medusa, it doesn't go beyond just "like". I learned a lot and will carry those lessons through on subsequent pieces.
Little Walter Tell
This sculpture is in the drying stage. He's been sculpted and hollowed out and it will take a couple weeks for it to slowly dry to the point of being able to be fired.
He is the son of William Tell. I have a vision of finishing him with a light beige stain to bring out his features. I will wipe the beige off of the majority of the sculpture and simply seal it with a semi-gloss varnish. The apple will be a mixture of gold paint and gold leaf – for texture. And I may add a blue collar to Walter's shirt. Mounted on a glossy black wood base.
Well, that's my plan right now anyway. You never can tell how that idea will change!
What's next? The starting point will be an expression. I am at the point where I feel reasonably confident in the sculpture process and want to bring out more emotion in the pieces. A gestation period is in order to develop the concept.