With the wonderful weather and extra free time, Andrew and I are trying to get out and paint en plein air at least once a week. While I keep saying I'm going to go out with the Al Frescoes group, my schedule and motivations seem to be roadblocks.
We recently went to one of our favourite places out in Sooke; the Juan de Fuca Salmon Restoration area. It is a stunning west coast jungle with rich dark browns and greens dappled with warm sunshine light through giant trees. And a lovely stream. We see only a few people when we are there and when we do, they usually have a pup with them to say hello to. It's a bit of a drive from Oak Bay to there but that's also a way to get that "out there" feeling.
In this plein air session I created what I thought was a completed painting but upon reflection back home, decided it needed some highlights. One aspect of plein air painting is that the light is ever changing. Also, what one sees with their eyes and mind while out there, differs from a photo taken at the same time. Taking time to ponder the work in normal lighting and then making alterations to improve the piece is quite common for me. Here's a view of the piece direct from the field and then the altered version. I made the light pop and added compositional form and colour.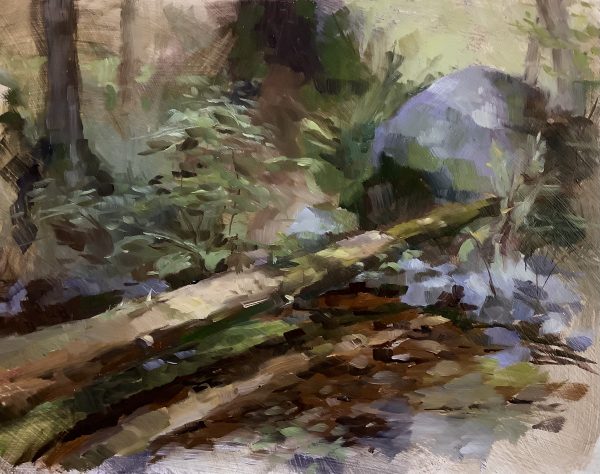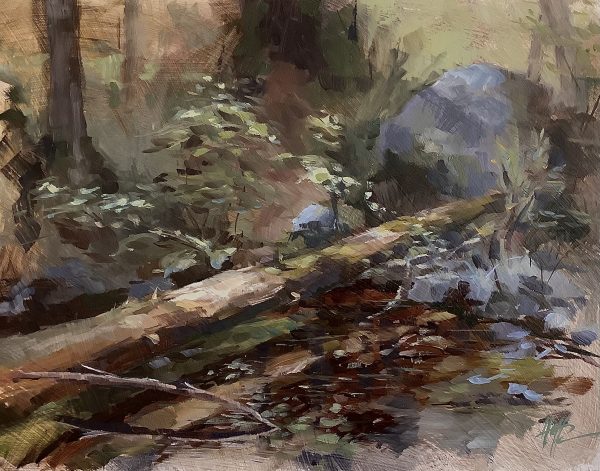 The learning process includes a goal of being able to finish the work on site but I also like the process of contemplation and alteration – understanding the piece more deeply. And getting excited about capturing the next scene, moment, feeling on the spot. Let's go!