Things really heated up inside the studio and out this past long weekend! I had 3 days in the studio and it was fantastically creative and productive! While I did wander out to enjoy the sunshine on the deck and do some chores, I took the opportunity to work on a diptych and a portrait commission. The portrait commission is a surprise gift so you won't see it until the recipient does – but it's well underway. Actually, Andrew and I are both trying our hands at this portrait so the purchaser will have a few options to choose from and we both have a great model to work from.
But back to the diptych…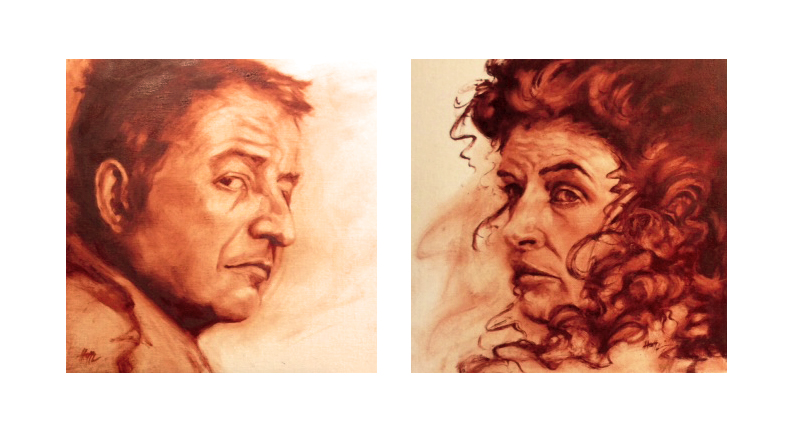 I started out by painting the female member of this duo and titled her "Coquette". And I was so happy with how she came out that it inspired me to create her male counterpart – "Coquet". Together, they created a partnership which no longer seemed appropriate using those titles and so The Conversation was born. When I look at them, looking back at me, I imagine myself interrupting them as they speak closely in front of a painting at a gallery art opening. Theirs was an intimate exchange of mysterious, even suspicious nature and I had intruded.
They were great fun to paint and gave me special delight because it appears that I have finally learned how to control the technique. Using just one colour is very similar to drawing with charcoal – in fact, I sort of consider these painted drawings. I use my brush and a rag to push and pull the darks and lights of the oil paint just as I would use the charcoal stick and chamois to push and pull the charcoal.
The portrait commission has started in the same manner but I am going to push it beyond the one colour once I have the likeness where I want it.
The countdown to summer holidays and art shows is on now and if this past long weekend was a taste of what's to come, it's going to be a fantastic season!