This past weekend brought freezing temperatures and the first snow to the region. Andrew and I recently broke our Alla Prima Pochade boxes in and weren't going to let a little chill daunt us from our painting adventures.
Now, normally I would be the one to get us up early but this Saturday Andrew kicked our asses into gear early and had us out at Tower Point by 8am. In 0 degree weather!
We found a lovely wooded area with views out to the coast, protecting us from a few flurries and -11 winds (I AM a west coast wimp – there were maybe a couple snowflakes and a light breeze).
And I finally kicked into gear. The cold and exhilaration of being out there so early on such a lovely day made me focus and frankly, speed paint. I blocked it in fast and directly laid the colours I wanted down rather than thinking about layering. It was unbelievably great to feel things coming together after practicing and looking and planning and practicing. It just felt right. And it shows in the little island study which was the fine result.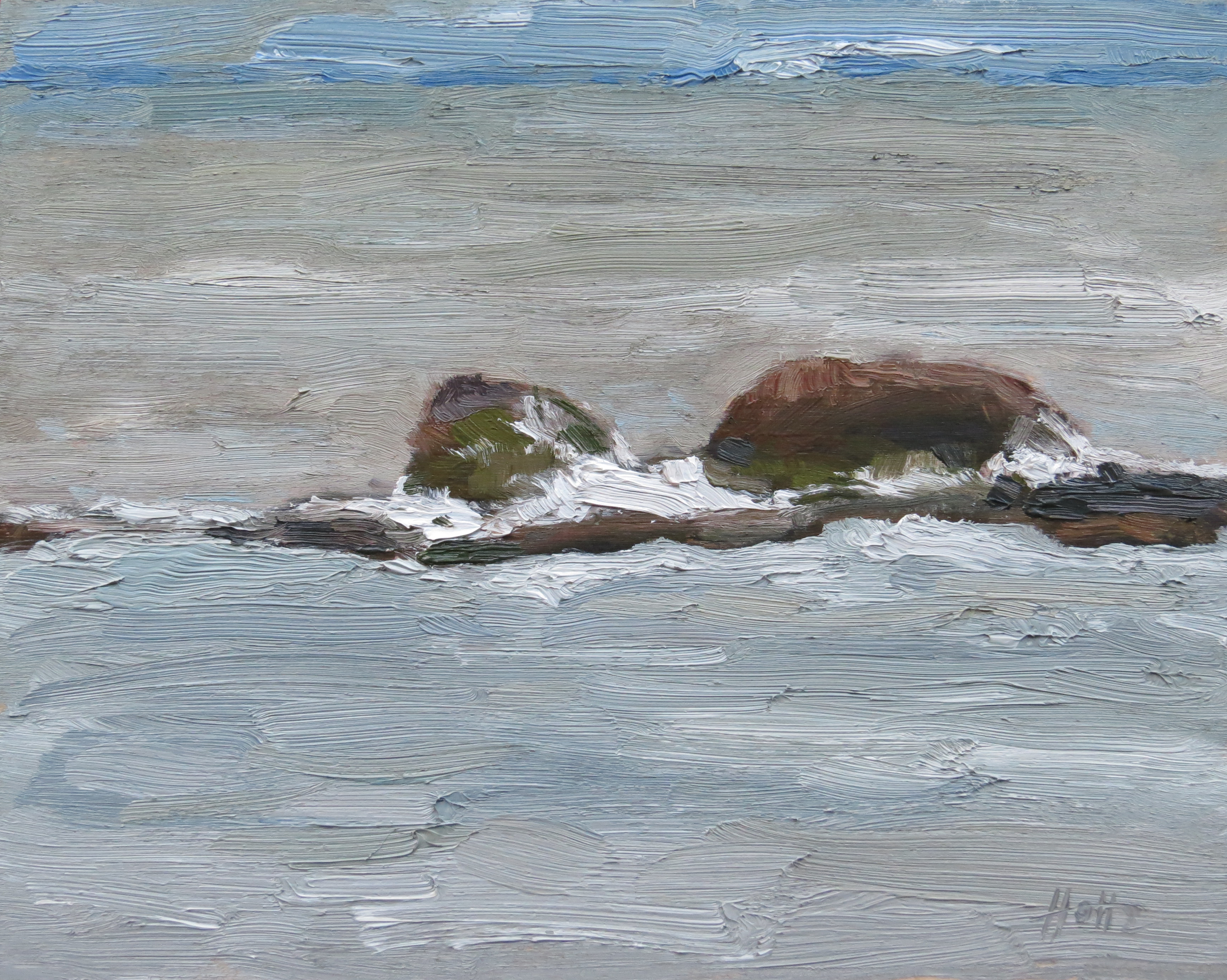 The next day we ventured out again but his time we lingered in bed with the excuse of waiting for it to warm up out there. By the time we were packing our boxes onto location it  was still -4 and one of us was a bit… ah, grumpy. Not quite up for the task. But, we managed to pitch our boxes in a lovely Japanese garden in Gorge Park, Esquimalt for 45 minutes or so – just enough to get the basics down and take photos for reference in the studio later that day.
And it happened again. The fast, fresh and loose magic that I've been waiting for and working towards. Can  you tell I'm thrilled?
I've added a little skill-building activity to my nightly ritual of pretending to watch movies  in the form of an iPad Jigsaw puzzle App. I upload paintings that I love by other artists and make them into puzzles and then go about the pleasurable task of putting them back together. I learn to look for loose shapes and colours, composition and light. I don't know if it is this activity or just the culmination of practice and cold air which loosened me up, and I don't really care. I just want to paint!
The Fast Art of Painting Quickly