My husband, Andrew Bartley and I recently had the privilege of attending an Alla Prima Portrait Painting workshop with Teresa Oaxaca at the Whidbey Island Fine Art Studio. Our focus of late has been on plein air landscape painting, so attending a portrait workshop was a bit of a sideways jaunt. I've always loved Teresa's unique and beautiful work so when I saw an ad for the workshop one evening, and having a few glasses of wine in me, I exclaimed to my also-web-browsing husband across the room: "TERESA OAXACA IS DOING A PORTRAIT WORKSHOP ON WHIDBEY IN JUNE, WE SHOULD GO!" (All caps does indicate shouting and/or excitement). You see, these wonderful workshops and artists usually offer their work/classes further away from our nest, mostly the southwest US or further east. Having one close by was very exciting. Andrew's response was: "LET'S DO IT!".
And there we were a few months later, on lovely Whidbey island amidst a familiar rampant bunny population (the university where I work also had the bunny "issue" until they decided a cull was in order) and 14 other eager students, watching and learning from the extremely skilled beauty herself, Teresa. The 4 day workshop was intense sessions of demonstration from Teresa and our attempts to follow her method to a successful process and end piece. I personally experienced a progressive strengthening of understanding and results as the days and exercises went by and Andrew was also very happy with his experience and results. While he rediscovered his native painting style utilizing Teresa's methods, I learned several key things:
Look more, paint less

I can't emphasize this enough. Slowing down and spending time looking at your subject and considering the whole composition is critical for me. I tend to push work out, hoping that the next one will be better. Now, I promise myself to slow down and really look, really see, really paint what I want to be there.

Keep your colours clean on the palette and on your brushes

Which means I need more brushes! and smaller ones too – I tend to order large brushes!)

Thick over thin
Maintain a basic process: block it in, lay down the colour, finish

Avoid "drawing" in the blocking in step – and never, ever outline

Increase harmony by incorporating reflective colour from the environment and clothing into the portrait itself
Include a balance of warm and cool colours

This is something I need to do/research more, as I don't seem to get it

Make it POP!

Include clean bold colours as way to create interest

Avoid too many hard edges because it makes the eye jump around the painting
Soften edges often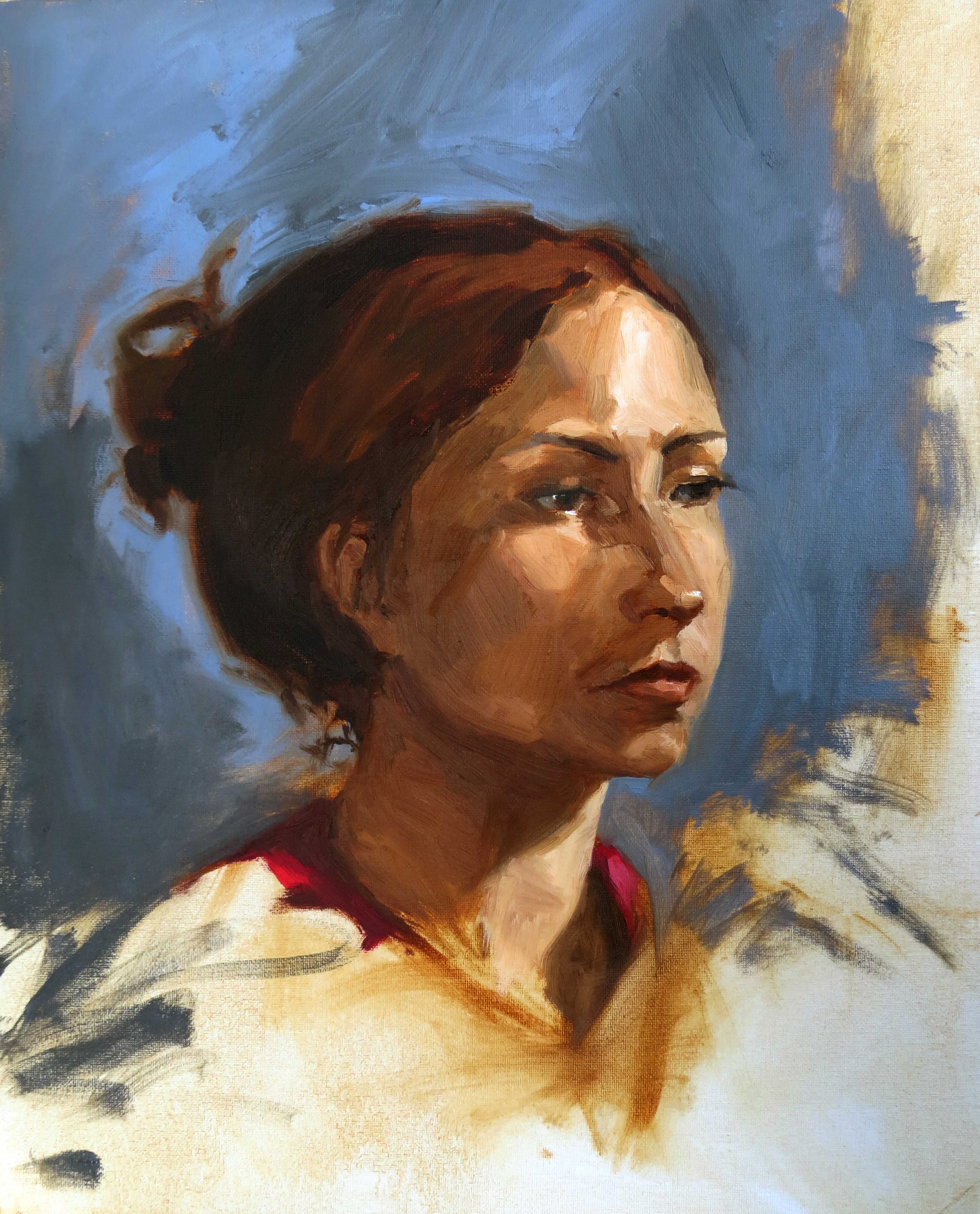 When we returned home, we didn't want to stop learning so on our single day left of time off, we went plein air painting. We both more or less used the same process of blocking in, laying in colour and finishing, but this time on landscape pieces. I found it to be a very calming and satisfying process. Whereas before I'd be in a rush to get things to the point of really seeing where the painting was going (which could take up most of the time in the session), the block-in step gives you a fast and strong impression of composition, tonal values and focal point. When that is all set, I found myself way more relaxed, knowing that I simply needed to capture the light, colour and values of the scene in front of me. It allowed me to incorporate soft edges and focus on the lights and the darks which would draw the eye in.
Not only did the workshop help us grow our skill and knowledge of portrait painting, it also helped move our landscape work to another level. All I need now is more time to paint!
To that end, we have a camping and painting trip planned this summer. I can't wait!