Frosty roofs and thin crystalline ice on the ponds tell me winter has arrived here on the wet coast. As I walk through the woods to work I think to myself that I should be stopping to paint here where the mist is rising off tall golden grasses or take reference photos of the red shards of light from the low-sitting sun reflecting on tall, bare trees.
Our lives are finally finding a routine, a pattern, as we work our way out of the funk which the late spring brought. Friday morning sessions with the Al Frescoes plein air painters is one sure way to anchor that pattern to our passion for art. Another is my morning mediation routine which provides my brain and body a chance to let go and float into a more peaceful day.
My plein air work is still a fight. I'm working my way towards more abstract work. It's taking more time and effort than I ever imagined. Though I am not complaining when it involves being outside in such beautiful surroundings.

Walking Into the Fall, plein air and studio oil on cradled panel, 8" x 24"
At those moments when I am struggling with a painting, I often comment to my artist husband that painting is hard. In the big scheme of life, however, painting is pure pleasure even when it is not working out.
At those moments when I am struggling with all the small (and a few big) challenges thrown at my family and me this year, I note to myself that you never know what's going on in a person's life and we all need to be kind. In the big scheme of life, however, I am happy to be alive and this too shall pass. And this. And this.
Even when we chuck that painting in the bin or personal struggles trip us up, the living is good and painting is still hard!
Evidence from the summer of 2018: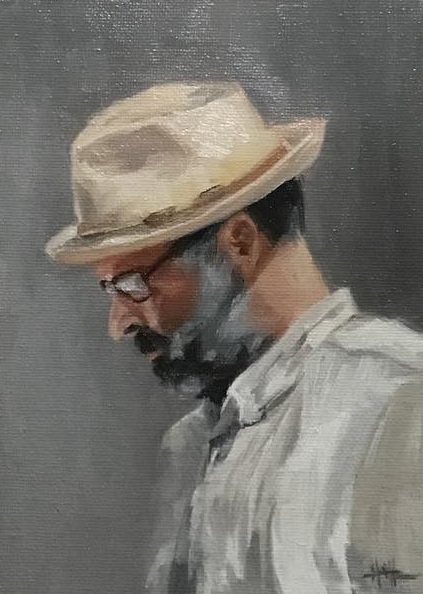 I recently made an order of paint brushes from Rosemary & Co for my standard long bristle brushes and to that order I added a few brushes that I have been wanting to try. I've noticed that some fabulous artist's such as Colley Whisson use very soft brushes, so I added to my order one brush from each of these lines:
And they changed my world.
All of a sudden my portrait painting stepped up it's game and I've started a series of 5″ x 7″ character studies.
The brushes are AMAZING! It is difficult to explain why… they hold a lot of paint, the paint goes on softly and smoothly and the comber helps to soften edges even more. I use the Evergreen primarily as a background brush right now because it is too large for the details of the portrait. The long flat is my main brush and as I said, the comber is fantastic at creating a random softness between two fields of paint. Oh boy, are these brushes a pleasure to behold. So much so that I had to put in another order. I like to work with 3 brushes of the same type and size so that I have one each for my light, middle and dark tones. That way I'm not wiping the brush in between every change of light.
And the little portraits are so much fun to do. I can complete them generally in 1.5 hrs, which is currently about the limit my focus, free time and energy level allows me. I am using random references from magazines and news stories – just as structural guides rather than portrait references. I find I will start a piece and it just doesn't feel right so I wipe it off and try another. When they are so small like this, I don't lose much time or effort starting over – it's actually a good little warm-up exercise. Then when a piece comes together, the person that emerges tells me who they are. Author, policeman, chef, etc.
I don't really know where I am going with this series but I sure am enjoying the process and the progress that it appears I am making. I do feel it is leading  up to a course I'm taking at MISSA this summer called Charcoal Noir: Creating Compelling Visual Narratives.  My hope is that with the work I've been doing on these oil portraits and my charcoal portraits will coalesce with the course into a full-on multiple figure painting or drawing. It's been decades since I created large-scale figurative paintings and I'm curious to see what I will come up with, especially with these miracle brushes!